As much as selling is how you make money, being able to refund transactions is important to satisfy customers or correct payments that happened by mistake.
The steps involved in refunds depend on the card machine you have. They all have different menus and steps, but certain things are similar across terminal models.
Let us first distinguish between two types: standalone card terminals with navigation buttons or a touchscreen, and card readers connected with an app on your smartphone or tablet.
Standalone card machines
Card machines that work independently typically have a menu leading you to a "refund" option, but how it is navigated depends on the terminal software.
It could be on a main sales touchscreen, as on the Ingenico Axium DX8000 terminal below. Or you may find it in a side menu opened by pressing the right push-buttons – often via a "transactions" section – similar to the Ingenico Desk/5000 model below.
Photo: Emily Sorensen (ES), Mobile Transaction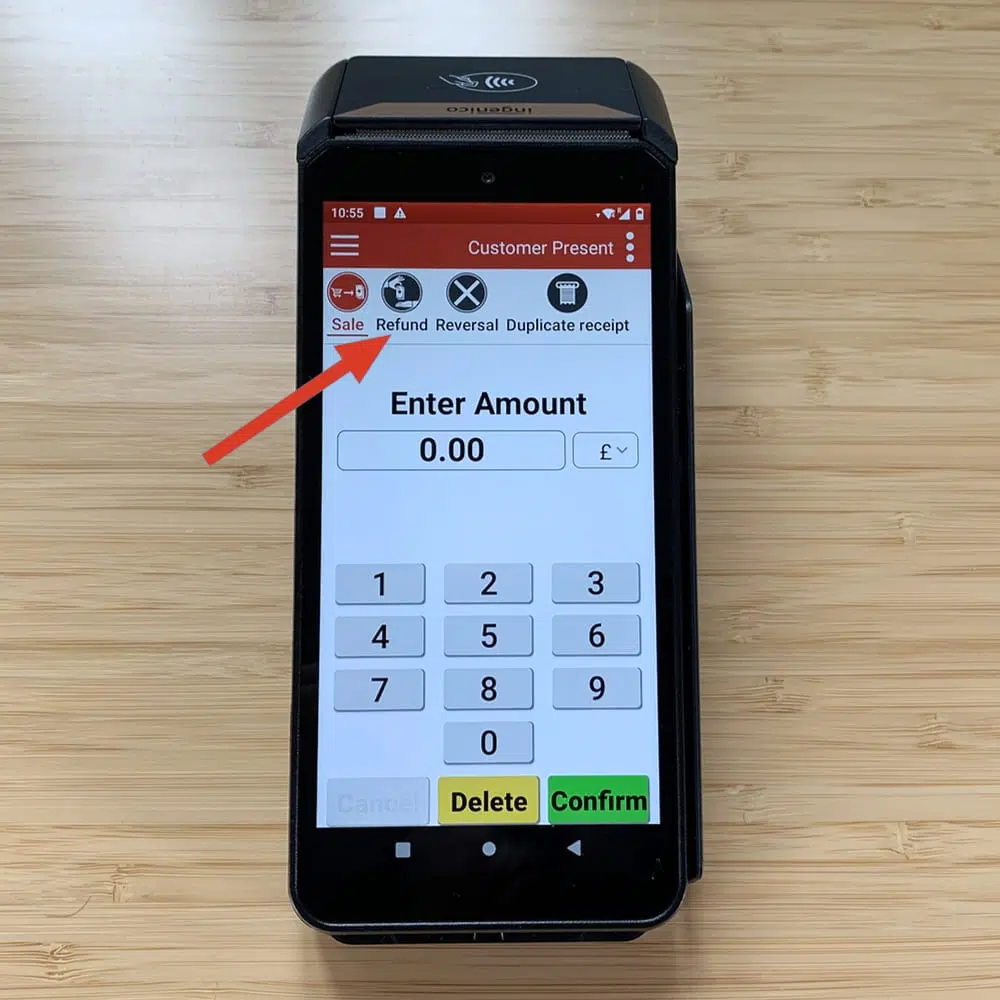 Refund button on Ingenico Axium DX8000.
Photo: ES, Mobile Transaction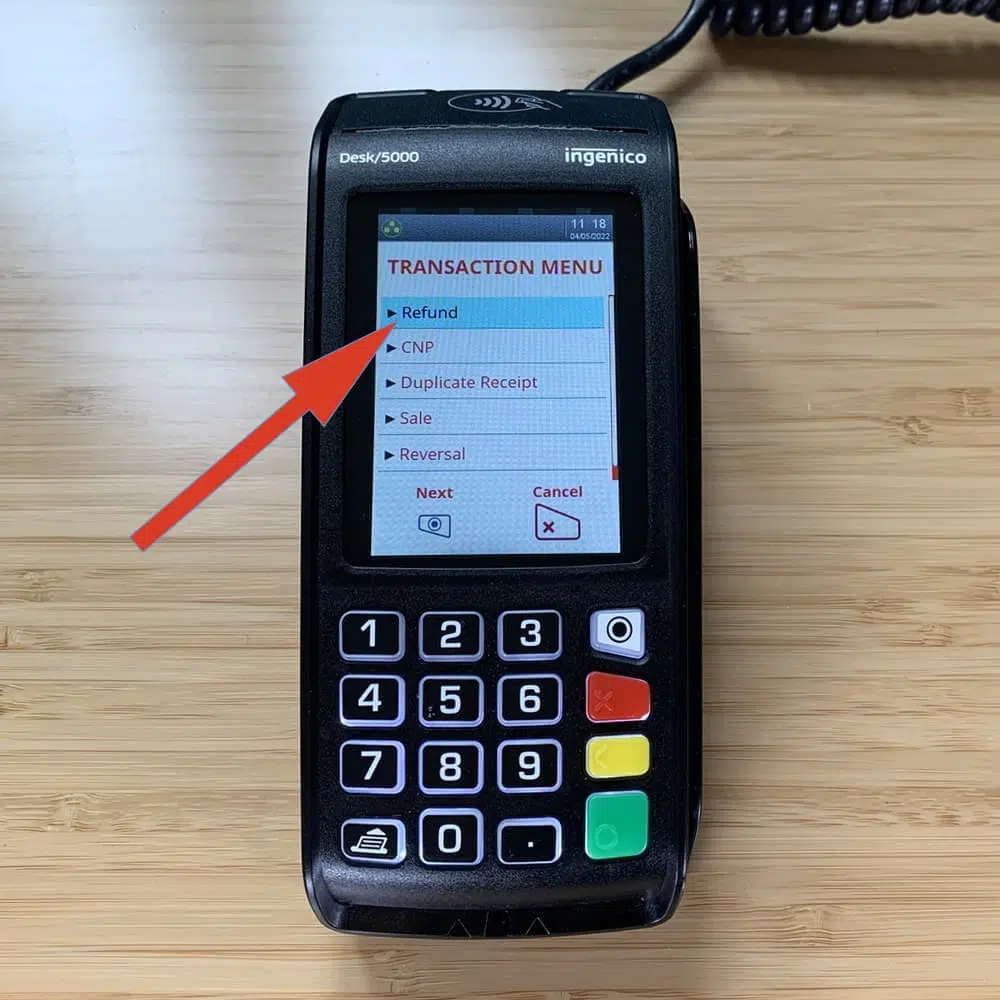 Refund button on Ingenico Desk/5000.
After selecting the transaction and refund amount, a manager/admin code may be required. The card machine will then request the insertion of the card originally used for the transaction – no other cards are accepted.
A mainstream card machine, such as Ingenico's, would then print a receipt for the customer to sign to verify they are the cardholder. Check the signature with the one on the back of the card, then accept it if they match.
An authorisation code is generated to verify it went through, and a refund receipt is typically printed by the terminal for the customer to retain as proof.
Some card machines have a separate "reversal" option. In Ingenico's case, this only works within 30 seconds of the transaction and before any other function is performed. It is used to undo transactions that were made in error, for example if you processed £100 instead of £10 and the mistake was spotted quickly.
Card readers with app
The usual refund method for app-dependent card readers (e.g. Square Reader, SumUp Air, Zettle Reader) is to go to the app's Transactions/Sales/Receipts section.
Here, you select the sale to refund, which brings you to all the details about it – including a Refund button. Tap the Refund button and enter the amount or select the items to refund, then confirm it (may require an admin password).
Image: Mobile Transaction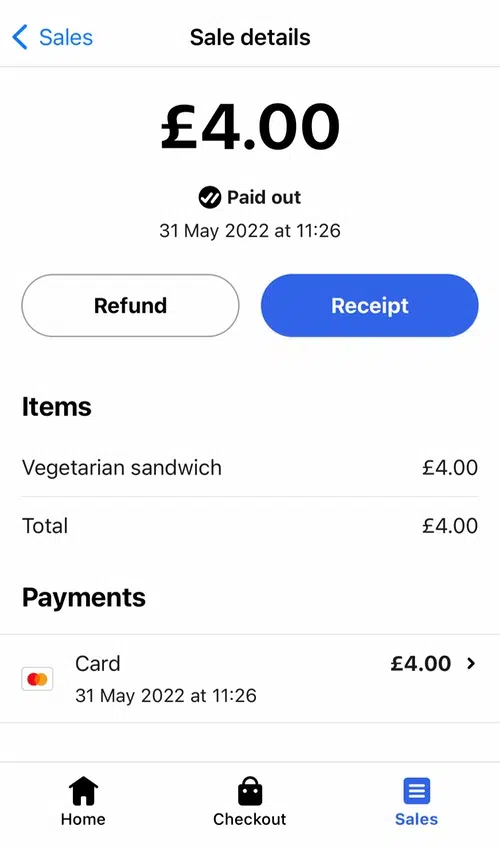 Transaction to refund in SumUp App.
Image: Mobile Transaction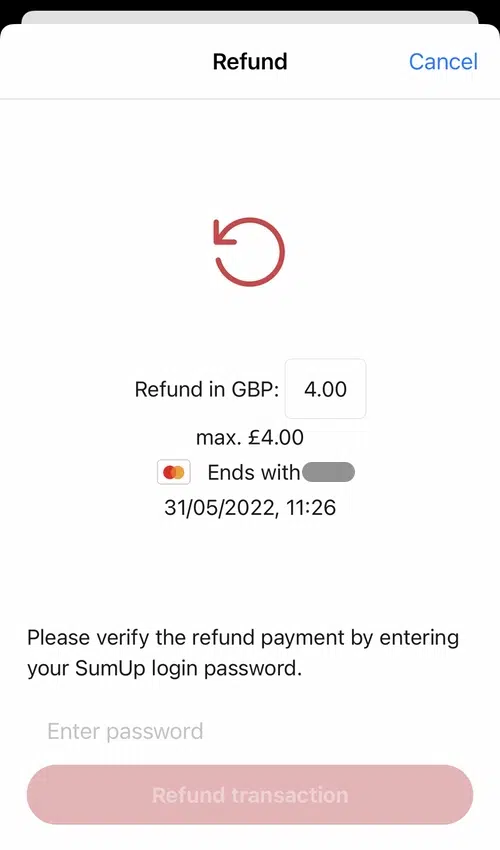 Refund verification may require a password.
Refunds go back to the same debit, prepaid or credit card used for the transaction – it is not possible to refund onto a different card. A confirmation screen will show in the app to prove the refund has been processed, and you may send or print a refund receipt for the customer if requested.
How to refund on card machine without card
Processing a refund on a card machine without the physical card that paid for the purchase is impossible on many card machines, but there's a workaround.
Some retailers may give the refund amount back as a voucher or gift card if the customer doesn't have their original card on them. This would work as an exchange instead of refund, because you're essentially swapping the returned product for a voucher/gift card of the same value.
This means you're not actually processing the refund on the card machine. Instead, you're using your point of sale (POS) software to process an exchange between products of the same value.
That said, app-based card readers allow you to refund via the app or web dashboard without verifying the card electronically in a terminal. Standalone card machines may also offer this option via a web portal or terminal software, but it depends on your payment product.
Time limits and processing times
Before you can process a refund, you need to know when it's technically possible in the first place.
Merchant service providers and card reader companies each have their own time limits within which you can refund a transaction.
Here are the rules of popular card reader companies:
SumUp can process refunds within 90 days of the transaction – but only with enough balance of outstanding payouts to cover the amount.

Zettle can process refunds within 1 year of the transaction – but only with sufficient balance in your Zettle account where outstanding payouts are.

Square can process refunds within 1 year of the transaction – from your Square Balance (where outstanding payouts are) or linked bank account.
The payout time for SumUp is 1-3 working days and 1-2 working days for Zettle. This is the amount of time it takes for each transaction to reach your business account.
Neither of these two companies allow you to make a refund when you don't have enough recent transactions yet to reach your bank account. That's because their payment systems do not facilitate reversals from your bank account.
Square is the only one of the above that can process a refund by taking the funds from your bank account. So if you're considering a card reader but only sell occasionally, it's worth choosing Square to guarantee you can always make a refund when requested.
Traditional merchant service providers like Worldpay and Barclaycard have no issues reversing transactions from your business bank account, even with no payouts outstanding.
Refunds don't typically reach the customer's account straight away, so it's important to communicate this upfront. Merchant service providers have different processing times, but cardholders can usually expect to see their funds in their account within a week for in-store purchases, or several weeks for online payments.
Refund fees
It's common for payment providers to charge a refund fee only after the transaction is settled in your bank account. The charge could be a fixed fee and/or the card processor retains the original transaction charge paid by the merchant.
Others do not charge refund processing fees, so the full amount is returned to the customer along with the transaction fees originally paid by the business.
Needless to say, it's worth checking with your card machine provider where they stand on this, especially if your customers frequently return goods.
When should you give a refund?
Whether you need to give a refund or not is determined by the law and the refund policy you've committed to in your business.
The UK law states that you have to give a full refund if "an item is faulty, not as described or does not do what it's supposed to".
Although you may decide to do it at your discretion, you don't have to give a refund if the customer:
No longer wants the item, e.g. due to wrong size, colour or change of mind.
Knew the item was faulty when purchasing it.
Damaged the item by trying to repair it.
Items bought online must be refunded if the customer tells you within 14 days of the transaction that they wish to cancel the order. They then have to return that item within the following 14 days of notifying the business. The customer doesn't have to provide a cancellation reason, nor does the item need to be faulty.
The business has to then process the refund within 14 days of receiving the item back.
In any case, you only have to offer a refund to the customer who made the purchase and only if the customer shows a proof of purchase (e.g. sales receipt, bank statement, packaging).
When it comes to card machine refunds, the customer can only receive money back on the card they used for the original transaction, so the card could supplement the proof of purchase.
Apart from the official laws in the UK, you can make your own returns policy that's compliant with these rules. You may want to go above and beyond the law by adding the option to return items within a number of days (e.g. 30 days) for any reason such as a change of mind. Unless faulty or not functioning as intended, you can specify the condition of the returned product, e.g. that it must come in its original packaging.
But businesses must never display information deceiving customers about their refund rights, e.g. by showing a sign saying "no refunds offered".