Time is the newest currency in retail. Convenience and COVID-19 have caused ecommerce to explode, and now the interminable growth of smartphones has had a similar effect on the latest time-saving way to shop; mobile commerce.
The convenience economy reigns supreme, and 'm-commerce' is helping customers make more of the time they have available. Increasingly, shoppers choose the easy path to purchase — a couple of taps on their smartphone — instead of hiking to the shops.
What is m-commerce?
Whereas ecommerce encompasses any transaction placed or completed online, m-commerce refers to banking, paying bills, and buying and selling products through a mobile device online.
M-commerce, then, is just one small part of a much larger ecommerce ecosystem. But the part it plays is swiftly eclipsing other factors at a breathtaking rate.
Why has m-commerce grown so much?
In a word — COVID. Ecommerce proved to be a critical floatation device for retailers as we were all thrust into lockdowns in early 2020. Consumers turned to online sales, partly out of necessity and partly for retail therapy, resulting in an additional $900 billion spent online globally.
It's had a profound impact on the digital economy. According to Adobe's Digital Economy Index, worldwide ecommerce sales will reach a sickening $4.2 trillion this year.
M-commerce drives it, accounting for more ecommerce sales percentage each year. In fact, eMarketer estimates that by the end of 2021, mobile will account for 73% of all ecommerce sales worldwide.
What's granted m-commerce this heinous level of power? There are three main factors:
The number of mobile users keeps rising
It's an integral part of the convenience economy
It's safe
We've all been a little shaken by what's happened in the 20-odd months leading up to 2022, and consumers have realised that their time and safety are more precious than anything. These factors make m-commerce an attractive option for customers looking to stay safe. One example of this is contactless payment.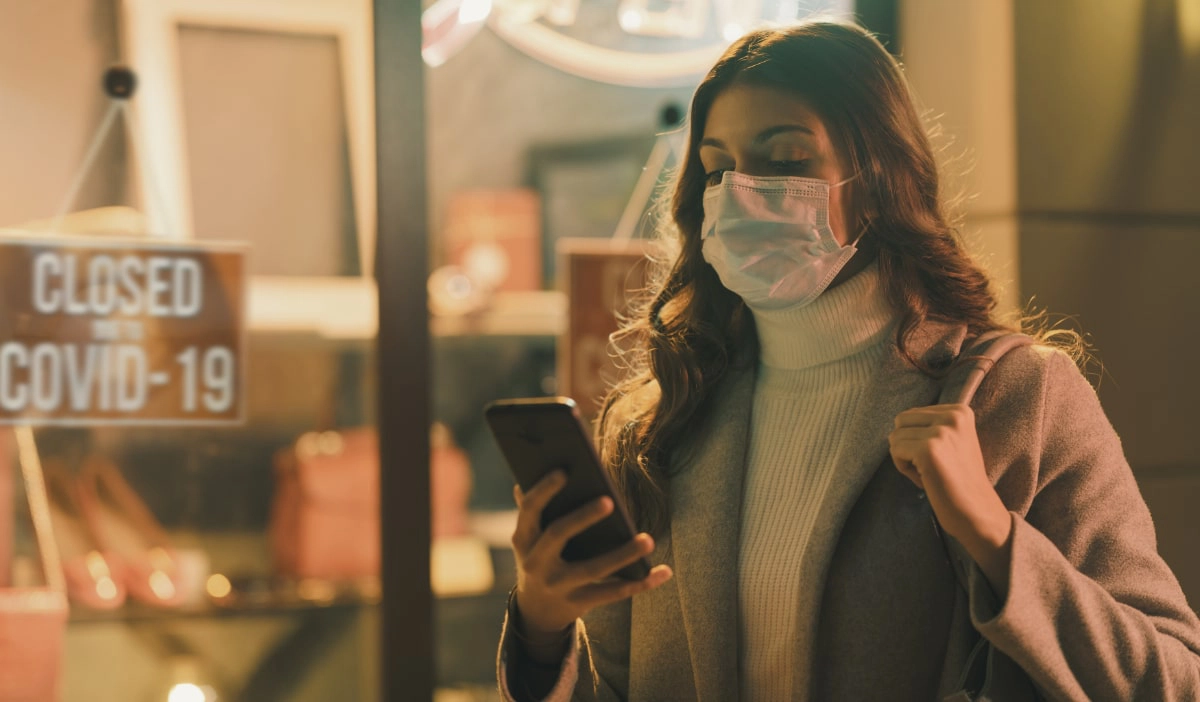 Business restrictions due to Covid-19 has led to more reliance phones for transactions.
Likely due to safety, contactless payments continue to grow in the UK as a means of reducing unnecessary contact in areas known to spread the virus. Whilst contactless card payments are fast becoming the preferred way for customers to pay in-store, there's evidence to suggest that mobile contactless payments may soon outstrip card payments.
Juniper Research predicts that mobile payments transaction volumes will grow from 26 billion in 2021 to 49 billion in 2023. The report identified cross-channel payment capabilities and enhanced security as the key drivers of growth for mobile contactless payments.
Phenomenal growth will continue in m-commerce
As it stands, the number of smartphone subscriptions worldwide today surpasses six billion — around ⅔ of the entire worldwide population. And about 80% of those people have internet connectivity.
Mobile phone usage will continue to become interwoven into everyday life across the globe as customers desire more convenient ways to shop. Statista predicts that by 2024 (in just two years!), revenue from m-commerce will rise to £105.28 billion in the UK alone.
To put that in perspective, retail sales via mobile devices in 2019 were only £50.36 billion in the UK, one-third of all online shopping.
Why is m-commerce growth significant for retailers?
M-commerce is already changing the way retailers approach ecommerce. Google's update in 2019 was the first sign, changing the algorithm to prioritise mobile searches. This forced retailers with an online presence to optimise their websites for mobile screen use or face tanking their ranking.
Part of the reason for this change is likely to do with the rise in popularity of omnichannel commerce. These days, customers don't see 'channels' — they see brands. Retail is becoming a collective experience, with offline and online blurring together.
Increasingly, customers choose to start buying journeys on their mobile, then jump around before purchasing. They may browse in-store, then head home to buy the item and have it delivered. Improving m-commerce experiences will become a priority for retailers to make this experience feel seamless.
Ultimately, m-commerce will shape the way retailers build their technological ecosystem. One example is enabling 'buy now, pay later' (BNPL) functionality.
BNPL is particularly attractive to younger shoppers. Offering customers convenience and options at checkout when it comes to managing budgets is a key component to the allure of mobile commerce.
Such benefits pay off for retailers, too. Research shows BNPL options could lead to bigger baskets and greater customer loyalty, boosting conversion rates between 20% and 30% and increasing average order value between 30% and 50%.
How will payments companies respond?
Emphasising convenience and safety, payments companies not already offering robust mobile commerce technologies will prioritise this area in future.
Payment companies have pioneered protocols, such as 3-D secure from Visa, that help businesses prevent fraud and protect customers from malicious activity on their accounts.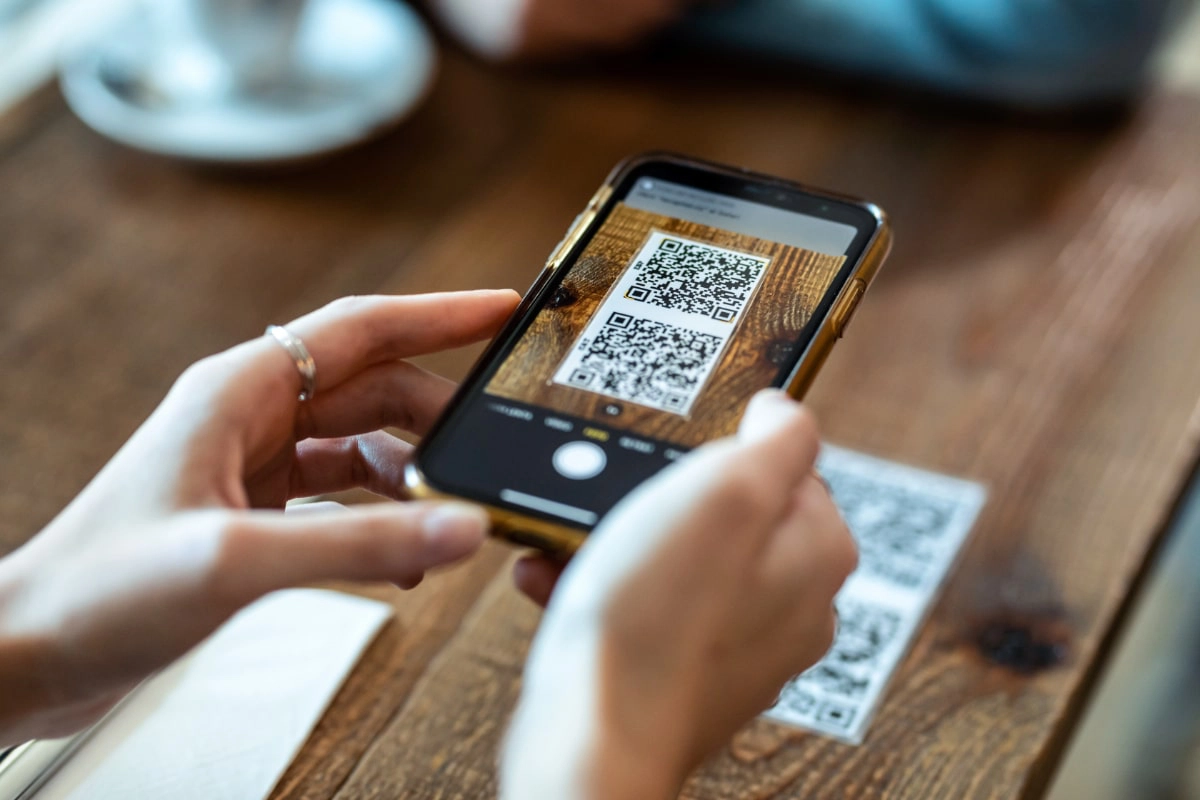 More diners have got used to QR code ordering instead of face-to-face transactions.
Such protocols are must-haves to retailers. And as customers increasingly demand more ways to pay, the payments industry will likely become more competitive. Providers are battling to offer solutions like QR code and link-based payments (where a merchant shares a URL with a customer) to make payments experiences as simple, pleasant and contactless as possible.
Aside from functionality, painless and quick onboarding processes will also become a point of contention by elevating the merchant experience and reducing cost.
From PayPal, Visa Checkout, Google Pay and Apple Pay, retailers need to know that they can trust the solutions offered by payments providers, however customers choose to pay.
Where will m-commerce end up?
Mobile commerce isn't losing momentum any time soon and slots perfectly into the demand for a seamless omnichannel experience. In 2022, customers want to start the buying journey on their terms — from whatever device, however they please, whenever they want.
It points to a broader, more subtle trend emerging in commerce — a desire for autonomy in shopping experiences. As brands fight for customer attention, what will win out? Will it be technology that engenders convenience (like augmented reality letting customers try on clothes virtually)? Or deep personalisation on mobile shopping apps encouraging customers to shop their unique way?
In 2022, two clear battlegrounds appear to be emerging: the battleground for the best m-commerce experience, fought by retailers. And the battleground to be the most trusted, most holistic payments provider.