Ufone was the fourth telecommunication company to join Pakistan's mobile banking party with Upaisa. As the saying goes, it's better late than never. It has given existing Ufone customers something to rave about.
With mobile banking services being in the market a few years before Ufone's introduction of Upaisa, the hype and excitement was not as grand as when Telenor introduced Easypaisa, the pioneer of mobile banking in Pakistan.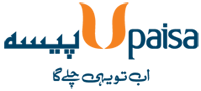 It rolled out the service, establishing 9,000 retail outlets along with UBank, a microfinance bank, in collaboration with National Bank of Pakistan (NBP) which has become a major part of Upaisa.
Upaisa provides two major services: money transferability and payments of bills along with mobile accounts. Upaisa has one add-on, with the help of UBank, having introduced a debit card for its customers. The card links to the Upaisa account and acts like any debit card. It can be used for purchases at any restaurants or stores that accepts debit cards along with any 1-Link powered ATMs.
Upaisa and UBank as your banking solutions
UBank provides different types of banking facilities. Customers can sign up for different types of accounting services from daily to monthly savings. It also introduced term deposits for idle funds in U Munafabuksh Term Deposits. This service is somewhat newer to the mobile banking sector giving maximum profit to idle funds with a minimum deposit of Rs. 5,000.
UBank has also introduced many different forms of loans for its customers. Being a microfinance bank it aims at small and medium size businesses as its main clientele, helping them develop their business and grow. Customers can get loans for livestock, farming, along with expansion of business. Mr. Faraz, a grocery store worker, took advantage of the U Apna Karobar loan service, loans for setup or expansion of business. Living in rural Sindh, he did not know much about banking but through his mobile he learned about the benefits of U Apna Karobar. After approaching UBank he was granted a loan to setup a store and accomplish his life long dream of running his own business.
Upaisa for a better Pakistan
Upaisa, to entice more people to use the service, has teamed up with various foundations. It allows for customers to donate directly to these foundations. The foundations on board are as follows:
Shaukat Khanum Hospital
Akhuwat Foundation
Jabhir Bin Hayyan Trust
Shifa Foundation
These foundations work in different sectors of Pakistan from health to providing micro-loans to education. Upaisa has provided an easy platform for them to collect donations from all over Pakistan and target a larger network. This has greatly benefitted these organizations as they have seen an increase in donations since their partnership with Upaisa.
The service has also teamed up with Daewoo Express, a bus service, where customers can book and purchase bus tickets from any Ufone Service Center. This helps Upaisa's users avoid the long lines at a Daewoo ticketing center saving them time and making the process a lot smoother.
Since the inception of Upaisa, Ufone has not seen that much of change in the number of users. It is currently fourth trailing Mobilink, Telenor, and Zong as far as mobile subscribers go and ahead of only Warid. Upaisa was not really expected to help Ufone make much of a difference in its standing amongst other networks as the three networks above Ufone have already launched their own branchless banking service. It has however given existing Ufone customers a reason to stay with Ufone rather than switch to another network for mobile banking services.