After a successful roll-out in America, which saw Apple Pay rapidly become the most popular contactless payment method across the US, Apple Pay has spread to many more countries, including the UK.
Apple Pay is accepted in numerous big-name stores and restaurants, including Costa, M&S, Boots, McDonald's, Lidl and Wagamama. Even Transport for London accepts Apple Pay on the tube and in London busses. UK owners of iPhones and Apple Watches are becoming increasingly used to using Apple Pay as a payment method, so introducing it as an option within your own business is a great way to keep up with the times and maximising your revenue potential.
Apple Pay payment providers
Thankfully, plenty of UK payment providers offer support for Apple Pay. Here's a list of the key providers at the time of writing.
Adyen
Adyen offer both online and in-store payment solutions for Apple Pay. Several well-known UK businesses are using Adyen to handle their Apple Pay transactions, including TransferWise and River Island.
Barclaycard Business
Barclays offers a range of payment solutions for businesses. Although their website is not transparent about this, they do offer Apple Pay acceptance, but for in-store transactions only.
Credorax
Credorax provides various acquiring services to global merchants. They offer omnichannel solutions including contactless point-of-sale machines accepting Apple Pay.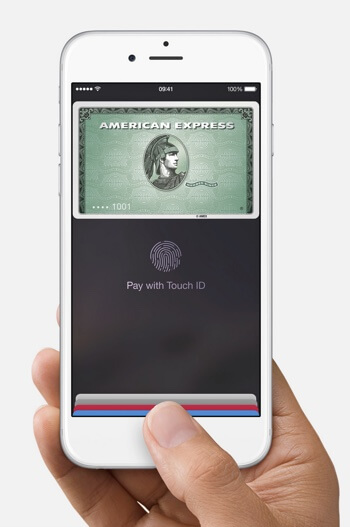 Apple Pay uses secure fingerprint technology to accept payments.
Elavon
Elavon is a global payment provider. Businesses using their contactless readers (including their MobileMerchant mobile card reader) should be able to accept Apple Pay without any need for additional configuration.
First Data
First Data has their own Clover EPOS systems that accept Apple Pay and offers a range of card processing and payments solutions, both directly with merchants and through partnering banks.
Global Payments
Global Payments is HSBC's preferred card processing supplier. They offer both in-store and in-app Apple Pay acceptance solutions.
iZettle
iZettle offers a hugely popular mobile app-based card reader that accepts Apple Pay and a wide range of payment cards. It is currently one of the most popular mobile POS solutions in the UK. They have a fixed transaction fee for all contactless payments and require no contract.
Lloyds Bank Cardnet
Lloyds Bank Cardnet is an acquiring bank that offers a range of payment solutions, including Clover POS systems. They tailor their packages to businesses and also accept Apple Pay.
PayPal
PayPal is well-known for their online payment solutions, but they also have their own app-based card reader service for face-to-face merchants, called PayPal Here. The contactless card reader accepts Apple Pay.
Square
Square Reader is another card reader that accepts Apple Pay in conjunction with a mobile device and their own free POS app. It is the smallest card reader available to take Apple Pay in the UK. Square has very simple, transparent fees and no contract.
SumUp
SumUp is a face-to-face card acceptance service with their own compact card reader SumUp Air that accepts Apple Pay and works with a simple app to process card payments. They have a simple transaction rate with no contract required.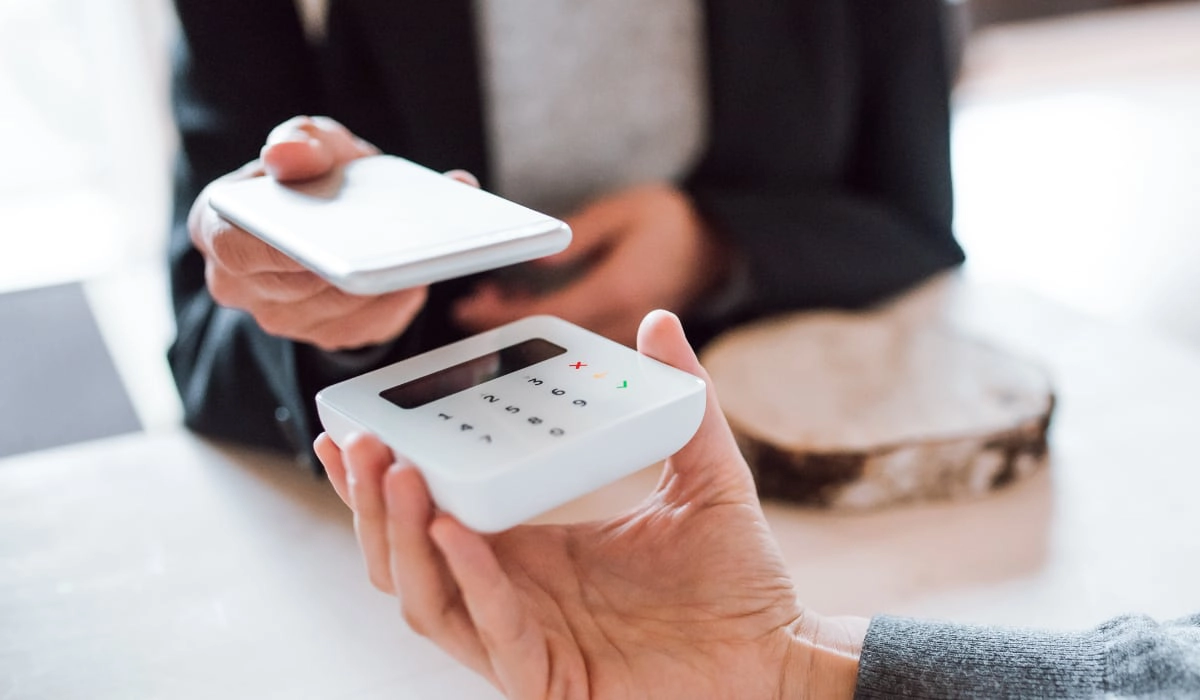 The SumUp card reader accepts Apple Pay.
Valitor
Valitor offers end-to-end payment solutions including acquiring, issuing and point-of-sale services. The company now offers terminals accepting Apple Pay.
WorldPay
Unsurprisingly, Worldpay accepts Apple Pay transactions, which is only to be expected from the UK's largest card payment provider. As with other providers, you'll need a contactless card reader to accept it – beyond this, you should have no problems.
How to know if you accept Apple Pay
If you already accept contactless payments and you're using one of the providers on our list, chances are you can accept Apple Pay now. But if you have a card machine that's older than 1-2 years or don't accept contactless, it makes sense to follow Apple's advice of contacting your provider before trying to accept your first Apple Pay transaction.
If your existing payment solution is set up through a bank that's not listed above, you may still be able to accept Apple Pay since they may be using one of the above services for your payment processing. For example, Co-operative Bank uses First Data and Clydesdale Bank uses Worldpay for their merchant solutions – both accepting Apple Pay. The only way to confirm this if you're not sure is to contact the bank.
Apple can provide you with free decals for shop windows and counter areas, to make clear to customers you accept Apple Pay. You can also download a "payment mark" graphic for use on websites, as well as marketing materials.
Are there any transaction limits?
Apple Pay is geared up for payments of any amount as long as your provider meets the "latest network contactless specifications". We suggest that to avoid embarrassment with customers, you check with your payment provider before accepting Apple Pay sales of over £30 (the usual limit for contactless card transactions).
Depending on the configuration of your mobile payment solution, you may still be restricted to only accepting contactless Apple Pay transactions up to a value of £30, but over the past year, we've seen that most retailers and payment providers have removed this restriction.
What about refunds?
Refunds and returns are easy to process via Apple Pay and work just like normal card payment refunds. However, you must learn what you need to tap on an iPhone or Apple Watch to access the Device Account Number, which is required to process a refund. We suggest familiarising yourself with the process described on Apple's website.
Thanks to technology available from many payment providers, it's just as easy for a sole trader and small business to offer Apple Pay payments as it is for a large retailer. If you're not already offering it to customers, there's no excuse not to start now!