Pakistan's first mobile based branchless banking service, Easypaisa, is the creation of Tameer Microfinance Bank and the international telecommunication giant, Telenor. Established in 2009, the service is now accessible in more than 800 cities and towns throughout Pakistan. It has an average of six million users per month.
In Pakistan roughly 87% of the adult population doesn't have a bank account while 62% use a mobile phone. The service has provided banking services to a huge percentage of the population who otherwise would not have access to these services. The simplicity of the service makes it easy for anyone to use it hence its popularity in both urban and rural areas.
Being the first of its kind in Pakistan, the service provides people access to banking facilities on their mobile. It transforms the mobile into a bank, giving them the following services: money transfer, bill payment, and mobile bank accounts.

Growing rapidly, Easypaisa has established 65,000 outlets all over the country where cash can be withdrawn through the money transfer facility. This provides people in rural areas the ease of receiving money from their family from urban areas.
Easypaisa paves the way to financial empowerment
Easypaisa has provided financial empowerment to many which were either unaware of such facilities or just didn't want to go through the hassle of banking. Boston Consulting Group was commissioned to conduct a study by Telenor Group, which revealed that Easypaisa will help increase financial inclusion by 20% in Pakistan which would lead to a 3% increase in the country's GDP by 2020. According to World Bank, the service is the third biggest mobile money service in terms of clients.
Khushaal Munafa, mobile savings
In 2013, Easypaisa introduced mobile savings service, Khushaal Munafa. It gives customers returns of up to 9% for using their account for savings. This encourages customers to use the mobile banking service for saving purposes rather than keeping money at home as it provides security and profit.
Khushaal Beema has also been introduced which provides Life and Accidental Death Insurance up to Rs. 1 million to customers who use Khushaal Munafa savings service and maintain a balance of Rs. 2,000. The coverage varies ranging from Rs 100,000 to Rs. 1 million, depending on the customers' monthly balance. The add on has greatly benefitted many in rural areas of Pakistan who were not at all aware of insurance and its benefits before using Easypaisa.
Education is promoted with the help of Easypaisa
The Sindh Education Reform Program (SERP) signed an agreement with Easypaisa in June 2014 which allowed the Sindh government to disburse educational stipend through the service. The program provides stipends for education to families in rural areas in the province of Sindh. This has enabled the Sindh government to provide stipends to 400,000 girls through the service of Easypaisa.
The service has helped girls like Alisha, who dreams about growing up to become a teacher, gain the proper education required to fulfill her dream. Alisha, an 11-year-old girl living in the underdeveloped city of Hyderabad in Sindh almost had to drop out of school when her younger sister fell sick. Her father, a worker at a local grocery store, makes minimum wage and could not make ends meet once his youngest daughter fell sick.
Having Alisha drop out of school was the only solution they could come up with to save money to treat their daughter.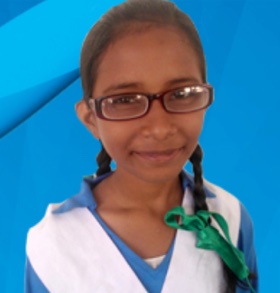 Alisha, 11. Image credit: Telenor
They were then introduced to SERP and through the use of Easypaisa the stipend for Alisha's education is provided to the family. She is now one of the brightest students in her school. This is just one of the many success stories of the impact Easypaisa has made on promoting education.
With the success of Easypaisa's partnership with SERP, other support programs such as the Benazir Income Support Program, providing income support to women, look to partner up with Easypaisa for the disbursement of its stipends.
Easypaisa has been quite successful in Pakistan. After launch in just a couple of months it recorded over 420,000 remittances in Pakistan. This showed the dire need of such a service in the country. It has also evolved gradually, adapting to the needs of its customers which has helped make it popular amongst its clientele.