By Janet Kamana, Nairobi
M-PESA is a mobile money transfer service supported by Safaricom, Kenya's largest mobile network operator. It is arguably the most developed mobile money transfer system in the world, and has transformed the lives of many Kenyans.
With over 18.2 million subscribers in a country of 43.2 million, its popularity is undisputed. The main reason why most Kenyans prefer it to other similar platforms is because it is very easy to use.
By the close of 2013, there were close to 79,000 agents, which means that when the need for a financial transaction arises the service comes to mind, because the shop next to you is most likely an M-PESA.
M-PESA is used for sending, withdrawing and depositing cash. There are several classes of accounts that individuals and companies can operate. With bulk payment services, institutions can register and manage their transfers via the service. Corporate accounts enable payment of dividends to customers and payment of promotional fees.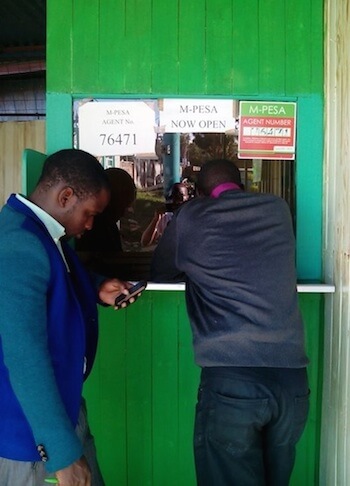 A typical scene: sending and receiving money with M-PESA.
With either accounts, users can top up airtime directly from their account or deposit money to banks linked to M-PESA. The service also facilitates paying of bills through Lipa na M-PESA, where companies can receive money from their customers for goods or services with no transaction fees charged to the customer.
M-Shwari: loans and savings through M-PESA
One of the important components of M-PESA is M-Shwari, launched in 2012 in partnership with CBA Bank and expanded in February 2014. Through M-Shwari, users can save and borrow money.
In a country notorious for its rouge and ruthless money lenders, the loans from M-Shwari are considered "friendly" to the clients because no collateral is required, there are no transaction charges and loan applications are processed instantly.
The loans are repayable within 30 days and earn a flat interest rate of 7.5%. Clients can borrow Ksh. 20,000 (about $240), a sizable amount in Kenya. However, the amount is dependent on the amount of money individuals have saved and how regular they use the service. M-Shwari savings accounts generates an interest rate of 5% per year.
M-KESHO: mobile banking with micro-credit and savings
M-KESHO is another is dedicated platform for mobile banking supported by the M-PESA platform. The service was launched in 2013 in cooperation with Equity bank, but has not become as popular as M-Shwari.  Through M-KESHO individuals can make direct deposits and withdrawals from their bank accounts. The service enables fast transactions because all you need is a mobile phone enabled with the money transfer service and a bank account to transact.
M-KESHO reduces inconveniences such as queues at the bank and transport cost as well as cutting out the risk associated with cash handling. The most important point is that a customer has 24 hour access to money in their bank account, thus s/he can access the service after normal banking hours.
A quarter of Kenya's GDP runs through M-PESA
Apart from making money transaction flexible, fast and cost effective, M-PESA has also created jobs to numerous Kenyans, which is a significant addition to the economy.
A quarter of the 44 billion dollar economy in Kenya runs through M-PESA. This also means that over 79,000 people who might have been otherwise jobless have been given opportunities to work as M-PESA agents. The agents act as the banking clerks where customers can send as little as 10 shillings and withdraw as low as 50 shillings from the agent.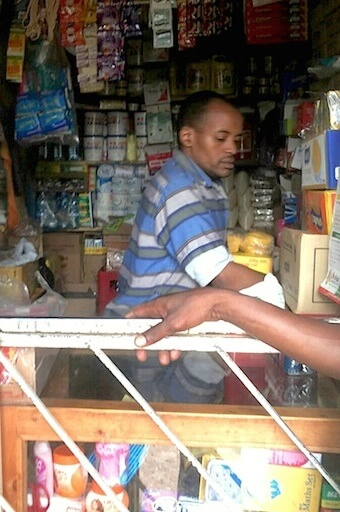 Mr Mungai at his shop in Ruaka, Nairobi.
Take Mr. Mungai who runs a retail shop business in Ruaka Estate, a working class neighbourhood in the outskirts of Nairobi.
To Mr. Mungai, M-PESA has eased the process of doing business and money transactions. He started using M-PESA from its inception, and he now owns two M-PESA shops.
His cousin, who was an M-PESA agent, introduced him to the business. She helped him register as an agent and taught him how to transact. He has not looked back since.
He uses M-PESA to save and send money. He also pays for the stock in the shop through the mobile money platform, and he pays for bills such as electricity and school fees using M-PESA.
According to Mr. Mungai, sending money privately has also been made easier because before the advent of M-PESA. Whenever he wanted to send money to his parents in his rural home village, he was forced to wait until he was free to travel and visit them. Alternatively he would choose to send neighbours or a public vehicle driver plying the route to take the cash to his parent.
"M-PESA has changed my life; it helps me make savings. I don't need to travel to and from the bank every now and then because I can now deposit and withdraw from my bank account using the M-PESA platform. Previously, I used to make between five and ten trips to the bank in a week. I rarely visit my bank anymore," says Mr Mungai, shop owner.
This risky method used to cost him some money because the messengers often demanded tips.
Nowadays, it only takes him about one minute to send money if he has M-PESA balance. If he needs to convert cash to M-PESA balance, it takes him about five minutes to finalise his transactions.
Democratising money transfer
The service has spread far and wide it has reached the individuals in the country. To open M-PESA account, one needs to be over 18 years and to be a subscriber of Safaricom's mobile service.
The simplicity of the service makes it attractive to even illiterate and semi-illiterate people who otherwise would not access bank services. M-PESA does not discriminate against any population, community, gender or individual because the services can easily be accessed by a farmer, a banker, a mechanic, or even a beggar, as long as they have authentic identification documents such as an ID or passport and are registered for the service by any M-PESA agent countrywide.
Everyone is open to use the service whether as a corporate, small scale businesses or as an individuals. M-PESA has been instrumental to many Kenyans since it was incepted. Fundraising for medical or educational purposes have been made easier by the availability of a safe an easily to use platform.
Through paybill numbers, different corporate institutions have managed to raise funds to support different fund drives, for instance during the Westgate Mall attack Kenyans used M-PESA to raise funds to support the affected families.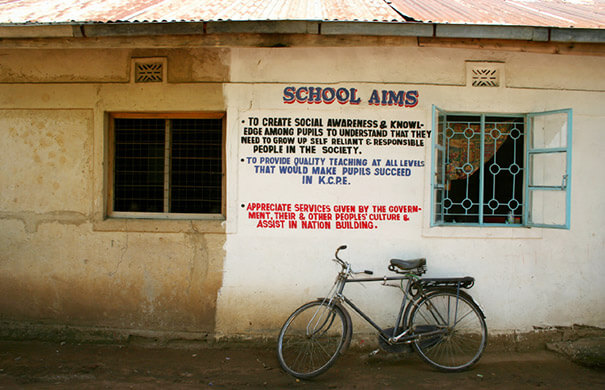 No more school fees drunk-up in transit
Nancy Njoki, a farmer from Ngong town along the Great Rift Valley can attest to the positive social impact of M-PESA for women especially. She learnt of the service through advertisement in the media and through her husband. Nancy uses M-PESA for sending and receiving money, make savings and buy airtime for her phone. Like many Kenyans she says it comes in handy when someone is in a money crisis.
Ms Njoki applauds M-PESA and insists that it was a very noble idea with its many advantages. She doesn't go to the bank as she does all her money transactions via mobile banking. Sending money to her siblings living in others estate in Nairobi is now very easy. She attests to the fact that M-PESA is a great relief to parents who have children in school in other regions, because they can easily pay their school fees without necessarily going to the schools.
"Before M-PESA I used to struggle sending money to my mother for school fees for my siblings. One time I sent a neighbour to give money to my mother, but instead he gave it to my father who ended up spending the entire money on his drinking and my siblings were without school fees for several weeks," recalls Ms Njoki .
She remembers all the bad experiences, especially as someone who is in a city far away from her hometown.  M-PESA has had a very positive impact on my life, she says.
Small-town M-PESA agent sending daughter to university
Miss Nyambura Ndungu, a university student, is also a beneficiary of the mobile money platform. Her parents live in Loitoktok, a small town by the Tanzanian border, and she is in Nairobi pursuing her studies. No doubt, she says, has M-PESA made life easier for her and her family. Her father sends her money through the service and pays university fees through the same platform. It has reduced the travelling costs for the family. Previously her father had to travel all the way to Nairobi to give her cash for her school fees.
Miss Ndungu is too young to have sent money by other means herself, but she recalls the trouble her mother had to go through trying to send money to family members who lived far from their rural home.
M-PESA has become a natural part of her daily life. Whenever she wants to send money to a needy friend or the vice versa, she is always confident that M-PESA will do the job.
And had it not been for M-PESA, her family might not have afforded to send her to university in the first place. Her mother runs several M-PESA agent shops in Loitoktok, making a significant contribution to the family income.
---
Nairobi, Africa's "Silicon Savannah"
The opportunities created for the close to 79,000 Safaricom agents have had a serious impact on the economy. But the innovative operation chain does not stop with the agents, as it also stimulated the brains behind the service and those who work on creating new services under the umbrella M-PESA.
Nairobi has made its mark on the global technology radar through the mobile banking technology that has spun around M-PESA.
Many mobile innovations coming up and have been aided by M-PESA and mobile money. These innovations are changing the face of Nairobi as it tries to keep up with other technology hubs, meriting it being called Africa's "Silicon Valley".
A sophisticated mobile money platform for business
Kopo Kopo is one such startup which is a service that helps businesses to accept payment of services rendered through M-PESA. It is easy to use and affordable; only 1% of the transaction is deducted. It is free to sign up and there are no monthly fixed fee.
Kopo Kopo enables service providers to track transactions and identify sales trends and market insights. It is safe and convenient to use because it runs on the trusted M-PESA platform therefore no one can reverse transactions without your approval.
M-PESA has also partnered with the technology startup M-Kopa to be able to provide clean energy solution to about 3 million of Kenya's population. If you are a Safaricom subscriber you can access the service by purchasing the solar home lighting solution on hire purchase which is done using M-PESA.
Eldoret and Kitale are among the first towns to experience M-Kopa. The hire purchase system of payment makes sure that the solar system can be accessed and is affordable to people with low income. After the initial deposit of 2500 shillings one is expected to make a deposit of 40 shillings a day for a year to own the service which is in the least affordable.
M-Ticketing is an app where a customer can order, pay and receive a ticket from any location and at any time using a mobile phone. Subscribers may visit an M-PESA agent and have them book a ticket for them or they may do so from the comfort of their own homes on their mobiles. Payment for the tickets is done through M-PESA pay bill.
Spurring apps development: empowering farmers
This wave of technology has inspired entrepreneurs both young and old to strive to create the next big idea in Africa. M-PESA has aided the mushrooming of app startups that goes beyond M-PESA itself.
M-Farm is a mobile start up that aims at connecting farmers by giving them updated information on the markets if they are subscribed to Safaricom. It helps link farmers to potential buyers through the current market place and agri-trends. M-Farm works as a transparency tool for farmers who can get the retail price for their products, buy their farm inputs directly from manufacturers at reasonable prices.
MedAfrica also comes in as an app from Shimba technologies that helps Kenyans connect to reliable health care information. The app provides lists of certified healthcare providers. It also has a diagnosis feature where one can determine what they are ailing from by stating a list of thee symptoms; the app then gives a list of suitable hospitals and specialists and also provides information on the hospitals location.
The app also provides First Aid advice, women's health information and diet tips. It aims at improving health care solutions in Kenya and providing fast information.
Eneza education is another virtual tutor assistant that operates on low cost mobile phones. Through the service a student is able to register for a course, access the studying material, take quizzes and tutorials, ask their tutor questions live and also get graded on the performance in all the subjects being studied.
This online platform helps students revise for main exams such as the Kenya Certificate of Primary Education virtually without the hassle of going for holiday tuition and can be done from the comfort of their own homes.
M-PESA is expanding quickly and has cemented its presence in Kenya, as well as expanded to Tanzania, South Africa, Afghanistan, India and its latest addition Romania in March 2014. It is fast expanding to a place near you, keeping true to its tag line – Relax, you have got M-PESA.