SumUp and myPOS are increasingly similar payment products that cater to small businesses.
Both sell card machines that come with complimentary payment tools and a business account. They don't lock you into a long contract, instead opting for pay-as-you-go pricing and no monthly fees.
The platforms have lots of differences too, though. Let's compare the two payment services and find out which is better for you.
Versatile card machine collection
The main reason merchants go for SumUp or myPOS is to get an affordable card machine. They have a card reader for any occasion, though SumUp tends to be cheaper while myPOS's selection is higher-end.
SumUp sells three models: app-dependent SumUp Air (£39 + VAT), small SumUp Solo (£79 + VAT) that works independently, and standalone, 2-part SumUp 3G & Printer (£129 + VAT) that prints receipts too.
Solo and 3G & Printer include a SIM card with unlimited free data, so they can be used anywhere with a mobile network or WiFi. Air, on the other hand, connects with SumUp App on your smartphone or tablet, using the mobile device's internet connection to process cards.
SumUp's standalone card readers, Solo and 3G & Printer, just do the basics: accept contactless payments and chip and PIN cards, as well as tips.
While Air does the same, it is through the connected app you can use more extensive point of sale (POS) features for a till point, like a product library and VAT rates. The paid SumUp Point of Sale app gives you many more, customisable features for hospitality and retail.
Photo: Emmanuel Charpentier (EC), Mobile Transaction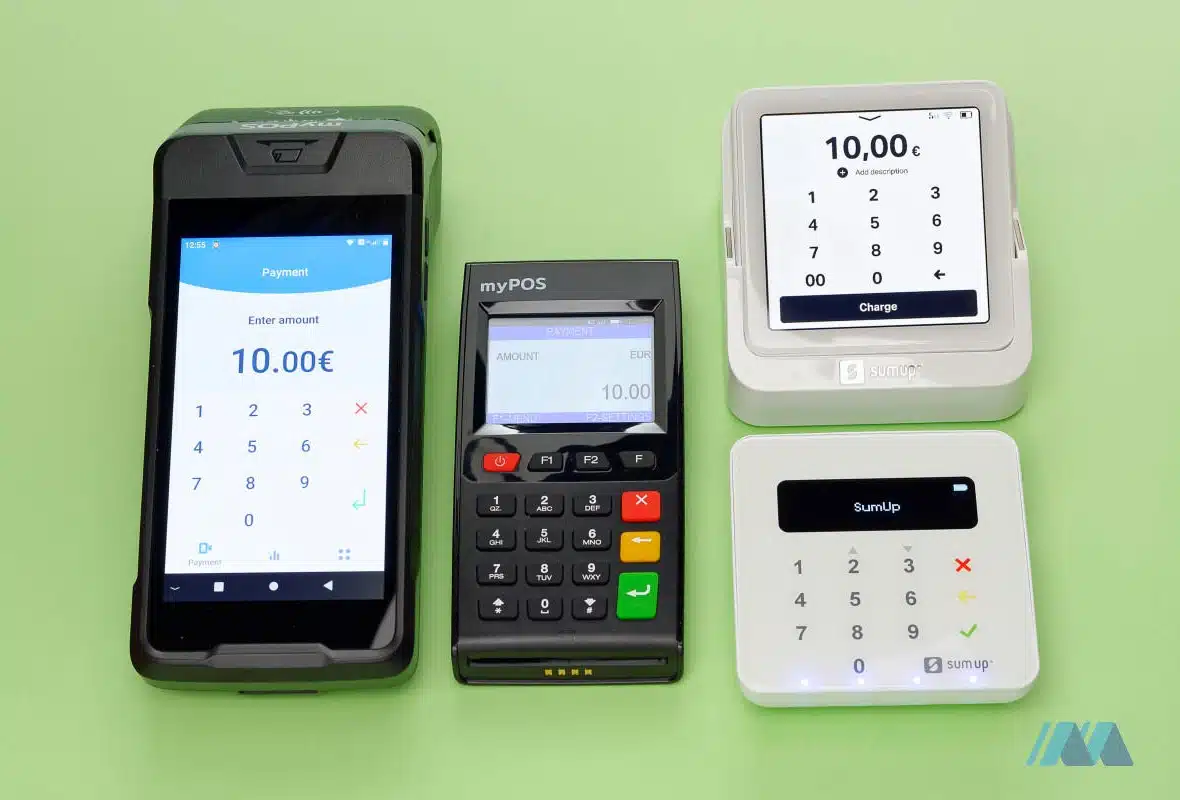 myPOS Carbon, myPOS Go, SumUp Solo and SumUp Air.
myPOS has four independent, mobile card machines that come with a SIM card: myPOS Go (£39 + VAT), myPOS Carbon (£209 + VAT), myPOS Slim (£189 + VAT) and myPOS Combo (£199 + VAT).
myPOS Go is the cheapest because it's a very simple card reader that only works with mobile networks, not WiFi. It accepts contactless, chip and PIN and swipe like the other card machines by myPOS, but lacks a receipt printer and touchscreen with options to download additional features.
Carbon and Combo have a built-in receipt printer, but Carbon is a newer, more robust model with a large touchscreen and expandable app features. myPOS Slim looks like a smartphone, but has a built-in barcode scanner for retail shops.
myPOS's terminals have some useful features, like sending payment requests for remote payments, gift card acceptance and preauthorisations. A POS app is available on the touchscreen terminals, along with other industry-specific apps for retail, services and hospitality.
Don't want to buy a card machine? myPOS Glass for Android phones (not iPhone) lets you accept tap-to-phone transactions via your mobile device's NFC chip. SumUp does not offer this functionality.
SumUp fees are predictable and lower
How do the costs stack up? SumUp definitely wins the battle of simple, hands down. Its card readers fall in the range of £39–£129 + VAT, and then you only pay a transaction fee of 1.69% for all tap and chip transactions, even if the card is premium like American Express or issued abroad. There are no monthly fees or contract lock-in.
myPOS's card machines cost between £39-£199 + VAT, excluding a mandatory shipping charge of £6. As with SumUp, there's no monthly fee, and you can cancel the account any time. The transaction fee for domestic Visa and Mastercard transactions is only 1.1% + 7p, whereas Amex is 2.45% + 7p and all other cards are 2.85% + 7p.
Cost type
Shipping
Free
£6
Fixed monthly fees
None
None
Visa, Mastercard (from UK/EEA) transactions
1.69%
1.1% + 7p
Premium, international card transactions
1.69%
Amex: 2.45% + 7p
Others: 2.85% + 7p
Payouts
Free in bank account or SumUp account
Free in myPOS account,
£1.50 bank account transfer
Refunds
Free
Free
Chargebacks
£10 each
£15 each
Inactivity fee
None
£10 + £5/mo applies after 10 months' inactivity
Shipping
Free
£6
Fixed monthly fees
None
None
Visa, Mastercard (from UK/EEA) transactions
1.69%
1.1% + 7p
Premium, international card transactions
1.69%
Amex: 2.45% + 7p
Others: 2.85% + 7p
Payouts
Free in bank account or SumUp Account
Free in myPOS account, £1.50 bank account transfer
Refunds
Free
Free
Chargebacks
£10 each
£15 each
Inactivity fee
None
£10 + £5/mo applies after 10 months' inactivity
SumUp doesn't charge anything for settling transactions directly in your bank account or SumUp Business Account (your choice where payouts go).
myPOS, on the other hand, only settles card payments directly in your online myPOS account, not bank account. To transfer myPOS funds to your UK bank account, a £1.50 transfer fee applies each time. You can make other transfers, such as SWIFT, for other fees.
Withdrawing cash from the myPOS online account with its card costs at least £2 each time. In contrast, SumUp Card gives you 3 free cash withdrawals per month, followed by a 2% fee until the next month.
There are other myPOS charges related to text messages, account statements and so on, so it's not overall that transparent compared with SumUp. If you haven't taken any transactions for 10 months, a monthly inactivity fee of £10 + no acquiring fee of £5 apply per month until you either close the account or transact again.
With SumUp, you don't have to close the account when you're done using it, as it won't charge you anything down the line.
Online business account and payouts
A big difference between the systems is where transactions are cleared.
SumUp settles money directly in your bank account within 2-3 working days. These payouts can be scheduled daily, weekly or monthly. You also have the choice to settle transactions in the complimentary, online SumUp Business Account that has an account number and sort code.
myPOS does not settle money in your bank account. Instead, transactions clear in an online E-money Account. From here, you can manually transfer it to a bank account. The account comes with its own IBAN so you can use it as a central, international business account, ideal for cross-border payments. It also allows you to create sub-accounts with different currencies to avoid currency conversion fees.
myPOS transactions can be accessed in a mobile app or online dashboard in a browser. SumUp also has an online dashboard where you can view transactions and print reports, but the SumUp Business Account can be managed in SumUp App too.
Photo: EC, Mobile Transaction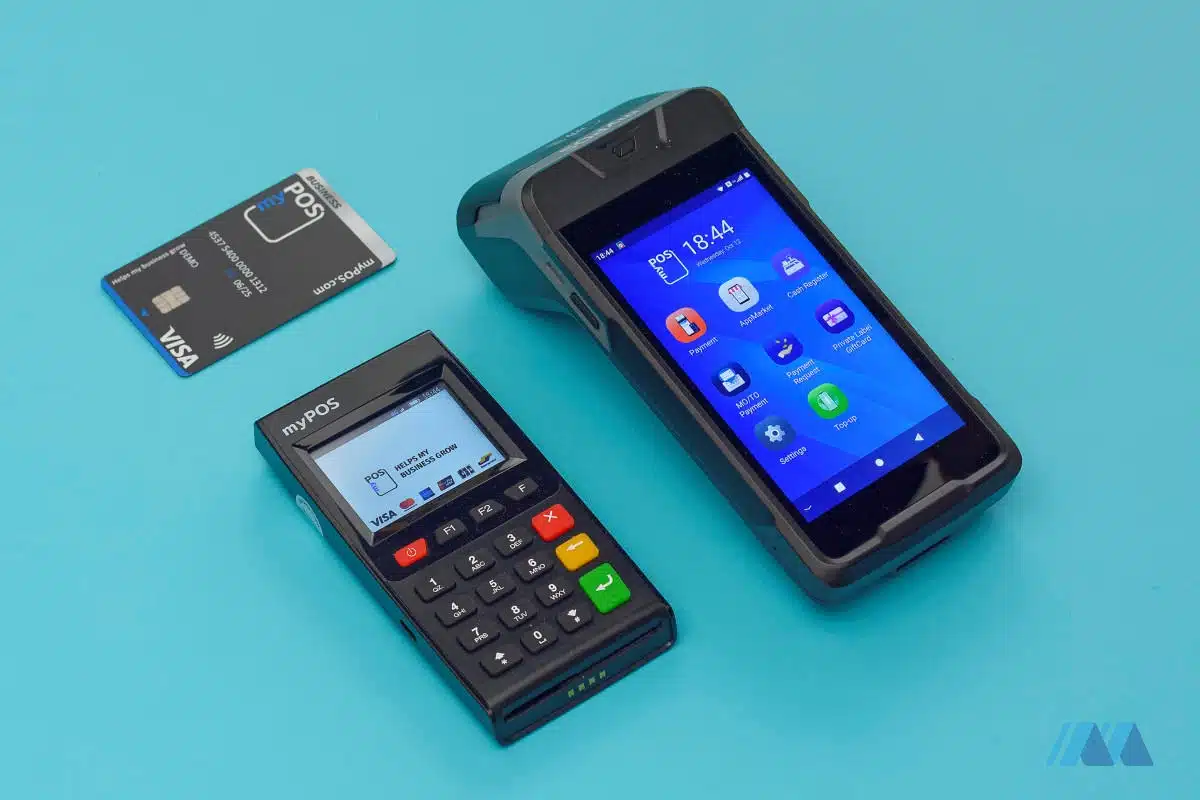 Transactions through myPOS terminals settle in an online account linked to the myPOS card.
Both offer a business card with fast access to funds
Rather than paying to transfer from the myPOS E-money Account to bank account, you can use the complimentary myPOS Business Card for direct access to funds in the online account where transactions settle immediately. It is a Visa prepaid card that can be used anywhere accepting Visa, and you can withdraw cash.
SumUp also gives you a business card, a prepaid Mastercard connected with the online business account. Card transactions settle in this account the next working day, including weekends and Bank Holidays, so it's the fastest way to access funds through SumUp.
myPOS accepts European mobile wallets
SumUp 3G and myPOS accept similar card brands. They both accept Visa, Visa Electron, V Pay, Mastercard, Maestro, American Express and UnionPay as well as Apple Pay and Google Pay. On top of those, only SumUp accepts Diners Club and Discover cards, while only myPOS accepts JCB.
These are more than enough for most merchants, but touristy shops may want myPOS's additional options too: Samsung Pay, Bancontact and iDEAL.
The latter two are Belgium- and Holland-based mobile wallets respectively. They are primarily used in mainland Europe, but British merchants can still accept them.
No lack of online payment tools
Both platforms include many tools for online and remote businesses, including an:
Online store builder
Payment links
Invoicing software
Virtual terminal (for over-the-phone payments)
In addition, SumUp lets you generate QR codes for touch-free payments. The website builder is actually based in SumUp App, allowing you to create a basic site quickly to advertise on social media. All of SumUp's tools are very intuitive, simple and lacking in complexity.
myPOS's tools are generally a bit more advanced. For example, you can integrate an online checkout in your chosen ecommerce store, instead of using myPOS's own website builder.
Both can be used abroad, but need permission with SumUp
By default, a British SumUp account works within the UK border only. That said, you can notify SumUp's customer service of any travels to another European country where they are offering services as well. You may then be granted permission to use the card machine in that country during the time you're away.
As an openly European company, myPOS doesn't require such an arrangement. The SIM card in the card reader automatically works in all EEA countries.
Sign-up is easier with SumUp
Sign-up is a simple, 5-minute process through SumUp's website, and then you just order the card reader while your bank account and business are verified within a few days. It cannot be any easier, although receiving the card reader can take around a week.
After the initial sign-up form on the website, myPOS additionally requires an identification check over video and submission of paperwork. This whole process usually takes days.
Photo: EC, Mobile Transaction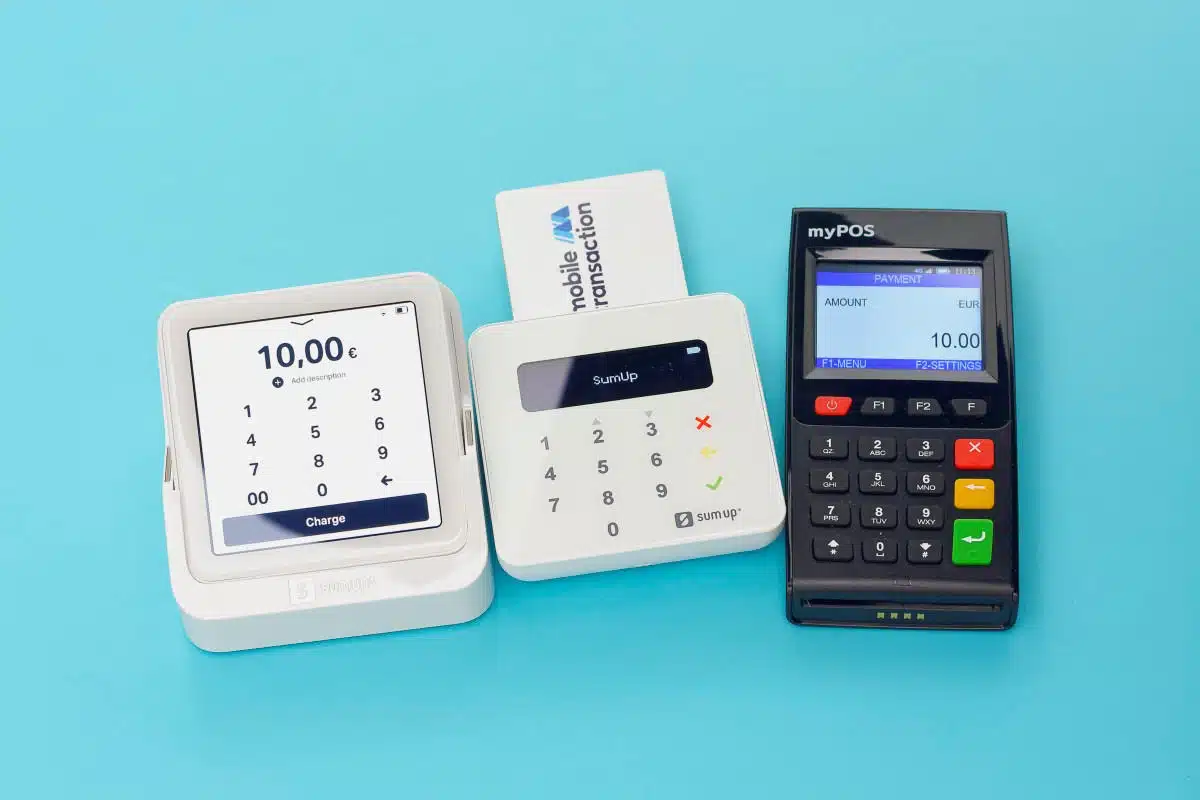 The smallest of the card readers from left-right: SumUp Solo, SumUp Air and myPOS Go.
Which is best for whom?
Both providers are catering to startups, sole traders and small businesses that just want to get paid as easily as possible. They are affordable pay-as-you-go terminals with no long-term contracts, unlike many other card machines that come with rental lock-in and monthly fees.
The mobility of the devices makes them ideal for restaurants and cafés for table service, but any small shop or mobile business can use them as a lightweight solution to payments anywhere. Taxi drivers may prefer myPOS, since their terminals can integrate with dispatch software for cabs.
If it's not important to manage card revenue via a bank account, myPOS has the advantage of providing immediate access to funds with the Visa Business card. SumUp's next-day access to funds via the free business account and Mastercard is not bad either.
Our verdict
Both card payment solutions work out as good, commitment-free alternatives to rented terminals, but SumUp takes the prize of being cheapest, easiest and most transparent. SumUp's free bank account settlement and fixed percentage for all cards are draws for many merchants.
myPOS, on the other hand, can be convenient for international businesses with its multi-currency account and instant access to funds. That said, it comes with more fees, some of which are less than clear.
Both platforms have a range of extra tools for online payments, invoicing, the point of sale and more. While the many simple features of SumUp are nearly all accessible in an app, myPOS's ecommerce tools are best accessed from a web browser.
The mobile terminals of myPOS are generally better for high-volume businesses, given their adaptable features. In contrast, SumUp's cheap payment terminals are built for ease of use and aesthetic appeal.