The advent of the smartphone is resulting in a revolution that few would have predicted when they first started to make their arrival on the world stage just a few short years ago.
Who would have foreseen how they would revolutionise the way we pay for everything or the way small businesses and traders can turn them into mobile credit card readers?
The pace of change is currently dizzying and it is easy to be confused between the terminology and different payments systems available. While the ability to use your smartphone or tablet as a mobile credit card reader using an app from iZettle or Payleven is part of this brave new world of mobile payments, contactless mobile payment is not the same thing although you also need a smartphone.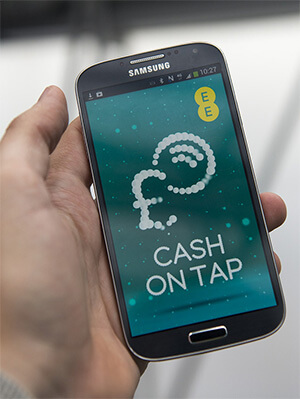 What is a contactless mobile payment?
Contactless mobile payment means using your smartphone to make payments by holding or swiping your phone near a special terminal. This technology has become familiar in the UK over the last year or so with the introduction of contactless credit and debit cards.
There are a variety of terms that all refer to contactless payment using a smartphone including NFC mobile payments, as well as some more user friendly terms like 'wave and pay' or 'tap and go', and another term that is used is mobile wallet (although this is different from a digital wallet).
Contactless mobile payments are usually for smaller amounts, typically in the region of up to £20, and the transaction takes place without the need to enter your PIN code to authorise the transaction (although if you have used it many times on the same day you may be asked to give your PIN code for security reasons). It is also possible with some systems to set a PIN number for all transactions if you wish.
How does it work?
In order for the transaction to be completed your phone must be enabled to make contactless payments either with a special SIM card or then by using a sticker or tag attached to the back of your phone. Contactless mobile payment systems are based on a technology called near field communications technology (NFC).
In simple terms, NFC-enabled devices are able to communicate with each other, i.e. exchange data, using radio frequencies.Once your smartphone is NFC-enabled and you have downloaded a payment app, you effectively turn your smartphone into a credit card.
Who is providing contactless mobile payment services in the UK?
This introduction of contactless mobile payment systems is still in its infancy in the UK, and some new services are due to be rolled out in 2014. Below is a brief summary of the main service providers.
Quick Tap
Barclaycard and Orange have been the first to roll out NFC mobile payments in the UK with their Quick Tap service that lets users with an NFC-enabled smartphone and a Barclaycard app to buy goods up to a value of £20. The app is used to set up an account that is topped up with a Visa card or MasterCard. If you want to use Quick Tap you have to be signed up with the Orange network. If your phone isn't NFC-enabled, Barclaycard Visa holders also have the option of using a Barclaycard PayTag, which is a sticker that you stick onto the back of your phone.
Vodafone SmartPass
Vodafone intends to launch its SmartPass system in the UK in the first half of 2014. The service is being marketed as a mobile wallet and the service is a partnership with Visa. SmartPass will let customers with an NFC-enabled phone pay for goods under £20 by just swiping their phone against a terminal. For values over £20 a PIN code needs to be entered. Similar to the Quick Tap service, it is possible to get a tag from Vodafone if your phone is not NFC-enabled.
EE Cash on Tap
EE in partnership with MasterCard also offers a contactless mobile payment service called Cash on Tap. Customers need an NFC-enabled handset from EE to use the service and then have to download the Tap Wallet app from Google Play. The service works in a similar way to Quick Tap and SmartPass and means customers can pay for goods worth up to £20 simply by swiping the phone against a contactless terminal.
Future development
In the UK, we are just at the beginning of this revolution and as the contactless infrastructure becomes more comprehensive the number of services will also increase. It won't be long before your wallet will become a thing of the past as NFC technology means everything in your wallet can be on your phone, such as loyalty cards as well as your credit and debit cards. The future is just around the corner.